How do people celebrate Christmas in other countries? Here's some of the most curious Christmas celebrations around the world.
Religious fervor in Bethlehem, Israel
Of all the places in the world to celebrate Christmas, the most traditional is Bethlehem. It is assumed that here, in a small manger, is where Jesus was born on 25th December.
That's why Christmas in Israel is a very serious thing and has a religious character.
Festive events begin in fact a month before. And be prepared to celebrate three kinds of Christmas. 25th December is christian Christmas day. Orthodox Christmas is on 7th January. And Armenian Christmas on 18th January.
Besides Christmas trees, decorations and gifts, there's a mass in Bethlehem every day. There are also many parades and processions.
The most curious Christmas celebrations around the world: China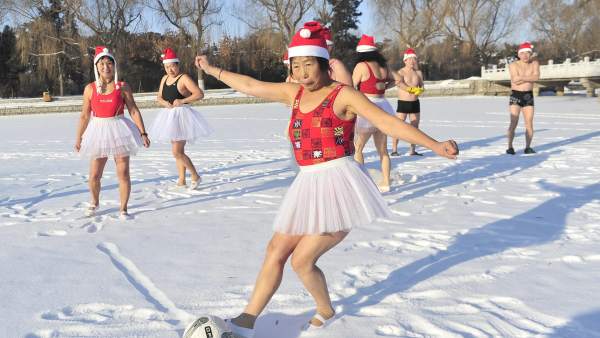 Christmas is not just a religious feast. In many non-christian countries people do special things at this time of the year.
Usually, Christmas has to do with family and friends, whether you celebrate it religously or not. And food, of course.
That's why in China Christmas sweets are the tradition. Along with ice skating, as we can see in the picture.
Czech Republic: toss your shoes
Shoes are closely related to Christmas in many places around the world. And in Czech Republic there's a very curious Christmas tradition that has to do with them.
Only single ladies have to do it. Standing in front of their home, they toss their shoes behind them without looking, with their right arm.
If the shoe lands facing the house, it means they will marry that year. If not, they will have to wait, at least, one more year.
Christmas in Spain lasts until 6th January
In most places Christmas ends on New Year's Day, on January 1st. But in Spain Christmas celebrations last until 6th January.
That's the day when the Three Wise Men, who greeted Jesus with presents, give presents to every child in Spain. Now in many houses people have started to give out gifts to each other on Christmas Day. But the tradition of the Wise Men continues, nevertheless.
January 5th is a very special day for Spanish children. A great parade is celebrated, where they recevie candy and can see the Wise Men on their camels.
At night, while they sleep, they will receive their presents. Is they're good. Otherwise they will just get a piece of candy charcoal.
Japan, the kingdom of fried chicken
The world's most famous fried chicken fast food restaurant is American. It is the Americans who made this type of junk food popular all over the world.
But Japan is unique for its curious mixture of traditions and the most modern and freaky habits. And there's one strange Christmas celebration which is becoming more and more popular every year.
In Japan, many, many people eat fried chicken for their Christmas dinner. They do this on the 23rd December, though, because 25th is not a holiday there.
Iceland, 13 days of presents
We're back to shoes and Christmas. Because in Iceland there's a beautiful Christmas tradition: the Christmas elves will bring children presents and leave them in their shoes.
Any child will want to live in Iceland knowing that this occurs not once, but 13 times during Christmas! Of course, there's one condition: having behaved well during the past year.
Because bad kids will only get a potato for present.
The Philippines, the longest Christmas
In the Philippines Christmas lasts … up to 4 months! The Christmas decoration of the streets and shops can start in mid or even early September. And the parties do not end until the first week of January.
It's clear that the Filipinos love Christmas.