Mmmm … films and food. The union of these two pleasures can be a true gift for the senses. The Seventh Art has given us real jewels that have made us dream of delicious dishes and have infected us with the desire to learn to cook.
What are the best films about food? We have made a short selection that we are sure will make you drool. We've tried to avoid the most popular titles to recommend some less known films that every kitchen lover should discover.
Jiro dreams of sushi (2011)
Wondering what to watch on Netflix tonight? Jiro dreams of sushi is a documentary which will make you fall in love with Japanese food, in case you haven't already. The film follows the most well known Japanese chef, Jiro Ono, an 85 year old genius who has dedicated his whole life to sushi.
Jiro is the owner of the Sukiyabachi Jiro restaurant in Tokyo, the only sushi specialized place with 3 Michelin stars. Every night Jiro makes dinner for only 10 people, who, at the price of around 300 euros, can taste his unique sushi.
Jiro's philosophy is a love declaration for slow cooking and slow life, the constant search for the perfect piece of sushi.
Super size me (2004)
All the other titles on this list are a declaration of unconditional love for the world of food. Except for Super size me. This 2004 documentary had great impact among the public and the critics. And it was a loud warning about the devastating effects poor nutrition has on our health.
Alarmed by the unstoppable growth of obesity in the US, filmaker Morgan Spurlock planned to carry out a curious experiment. He would only eat junk food for a whole month, and would shoot a film about how it affected his mind and body.
Super size me is the perfect movie for all those who are not yet aware of the importance of a healthy diet.
The Apartment (1960)
The Aprtment has actually nothing to do with food. But the love story of C.C. Baxter (Jack Lemmon) and Miss Kubelik (Shirley MacLaine) is one of the most beautiful, touching and funny ones in the history of cinema.
Selecting only one scene from this masterpiece by Billy Wilder is almost impossible. But since today we're talking about food, we choose the scene in which Lemmon makes spaghetti for dinner and drains them with the help of a tennis racket. Simply brilliant.
Julie and Julia (2009)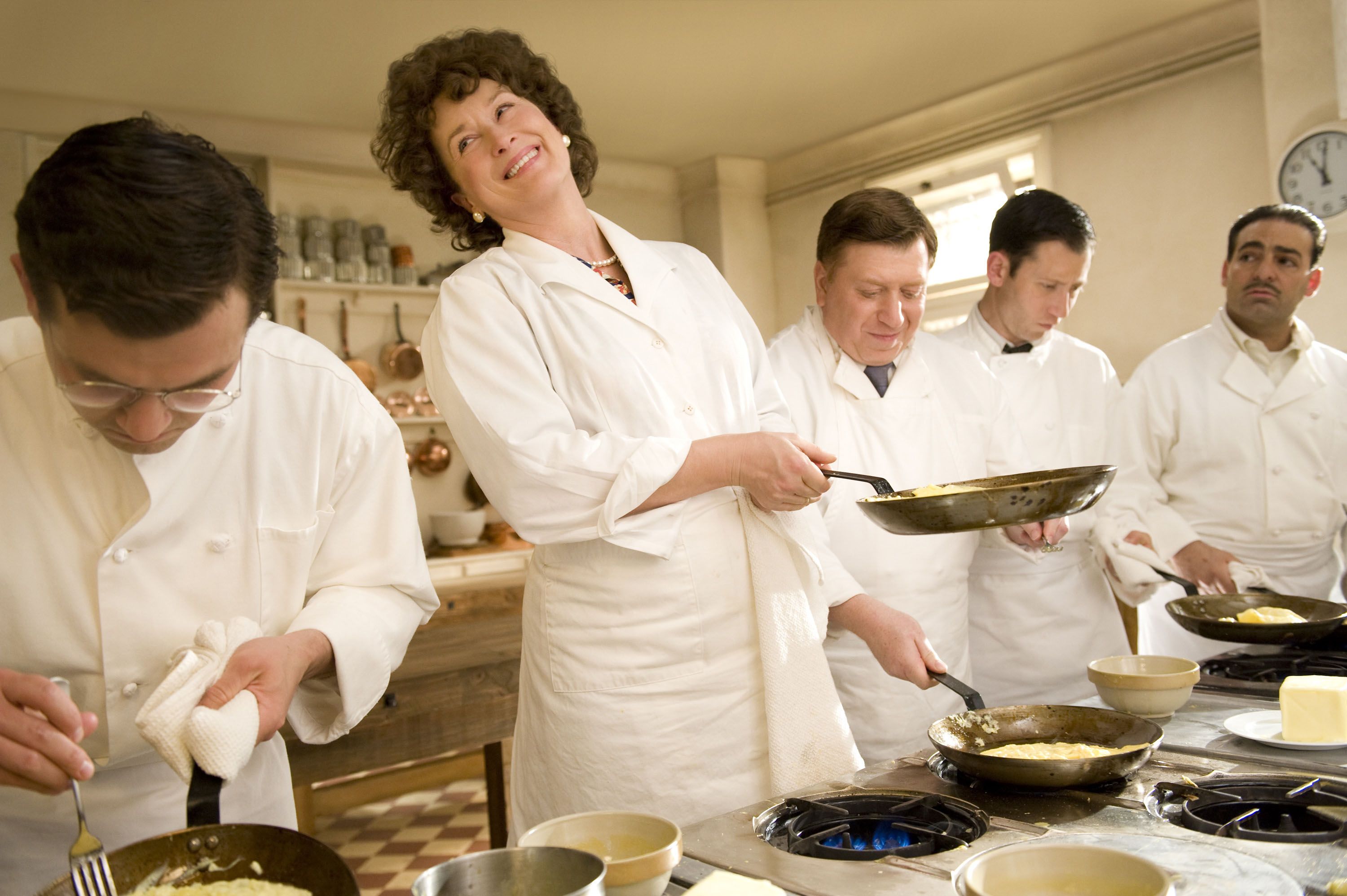 Julie Powell's job consists on giving telephone assistance to the devastated relatives of the 9/11 victims. One day she decides she needs something to fill her life with. And she plans a curious experiment: she will cook through every recipe in Julia Child's book, Mastering the art of French cooking. And she'll write a blog about it.
Based on a true story, this film also tells the story of Julia Child herself, the woman who taught Americans how to cook. It's funny, witty, and you can almost smell the butter. Plus, you have the chance of watching two of the greatest actresses right now: Amy Adams and Meryl Streep, in one of her funniest roles ever.
Ratatouille (2007)
We know we said we would try and avoid the most popular films about food everyone already knows. But making a list of the best films about cooking and not include Ratatouille seemed almost sacrilegious.
This little films about a rat who dreams of becoming a cook stole people's hearts and won the Oscar for the best animated film. What's more, the film made the French dish rataouille worldwide famous, and every cook should try and make it at least once.
Like water for chocolate (1992)
Alfonso Arau directed in 1992 what would become one of the most famous and loved Mexican films. Based on the homonymous novel, Like water for chocolate is a story of Mexican's magical realism in which food plays a leading role.
The film tells the love story of Pedro and Tita, which is always developed through food. If you want to learn how to cook quail with rose petals, this is your film.
Babette's feast (1987)
Based on a Danish short story, Babette's feast is a gift for the senses and the first Danish film to win the Oscar for the best non-English speaking film.
In a small Danish village dominated by Protestant Puritanism live two spinster sisters, daughters of the local pastor. One day Babette arrives at their house, where they welcome her and allow her to work in the kitchen.
We know very little about Babette, except that she used to be a cook and participated in the Paris Commune and had to flee after it fell. One day, Babette receives the news that she has won the lottery. That's when she asks the sisters for a favour: with the money of the prize she wishes to cook a special dinner for them, like the ones she used to cook when she was back in Paris.
The villagers agree that under no circumstance they will shoe pleasure at Babette's food, which she promises will be unforgettable. But at dinner, when they taste the delicacies and the wine, few will be able to resist expressing their feelings.